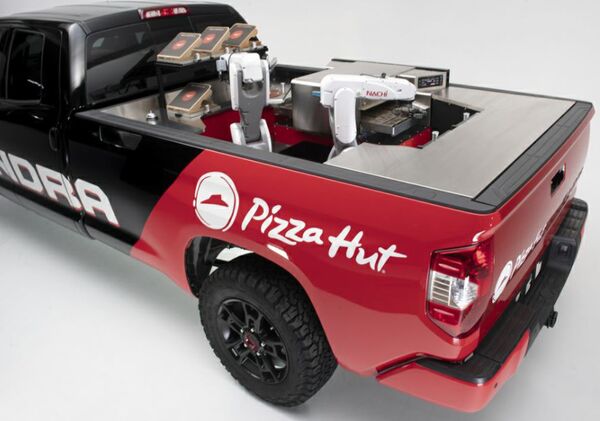 "Pizza Hut is fusing two of America's favorite pastimes — pizza pies and pickup trucks — in a bid to cut delivery times as fast-food competition heats up.
As part of the restaurant's latest partnership with Toyota Motor Corp., Pizza Hut has unveiled a robot-operated mobile pizza factory in the bed of a modified Toyota Tundra. The prototype will use automated technology to cook pies on-the-go in six to seven minutes, letting the chain expand its delivery area without the pizzas getting cold.
"We're bringing the oven closer to the consumer's door; nobody is doing that," Pizza Hut's chief customer and operations officer in the U.S., Nicolas Burquier, said in an interview. "We are pretty obsessed with improving the customer experience. The more we can get closer to their homes or the point of delivery, the better and hotter the product will be."
View more here.